Reconciling 2016 Property Taxes
Owners of four Disney Vacation Club resorts at Walt Disney World will soon receive a bill for under-paid property taxes during the 2016 calendar year. Fortunately the dollars are rather small.
Disney's Wilderness Lodge
The Orange County Tax Collector has released the 2016 ad valorem property tax notices for the nine DVC resorts at Walt Disney World. For five of the DVC resorts, the actual tax amount is lower than was estimated in their 2016 budgets, meaning that resort owners will be receiving credits on their 2017 maintenance fees. However, for four resorts the actual tax amount is slightly higher than anticipated, thereby necessitating owners of those resorts to pay more toward their 2017 maintenance fees to make up the shortfall.
In December 2015, the Disney Vacation Club Board of Directors established each DVC resort's budget and maintenance fees for 2016, which included an estimate of the ad valorem property taxes. The tax amounts were only estimates because the property appraisal amounts and the tax rates would not be set until several months later.
In June 2016, the Orange County Property Appraiser determined the appraisal values for each DVC resort. As shown in the chart below, all DVC resorts saw an increase in their appraisal values in 2016 compared to the previous year, ranging from a low of 3.26% for Disney's Animal Kingdom Villas to a high of 10.24% for Bay Lake Tower at Disney's Contemporary Resort.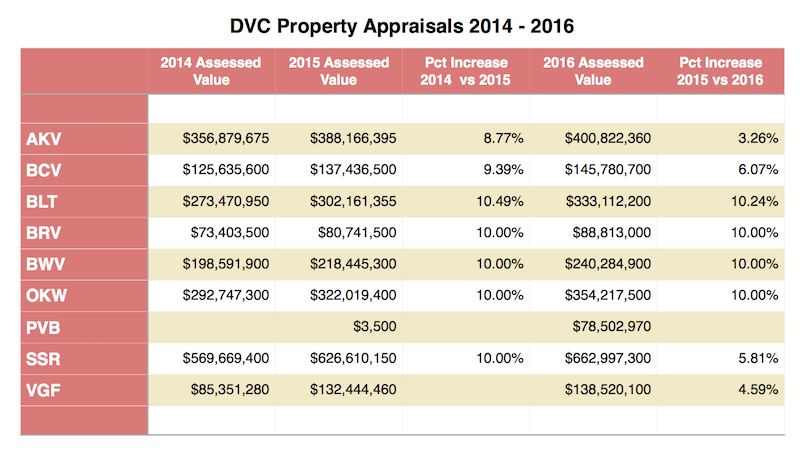 Property assessments are only part of how ad valorem taxes are computed. The other part is based on the mill rate set by the taxing authorities whose jurisdictions the DVC resorts reside. The DVC resorts at Walt Disney World are subject to seven taxing authorities, each of which sets its own mill rate. The taxing authorities are School by State Law, School by Local Board, Orange County (General), County Library, South Florida Water Management District, Reedy Creek Improvement District, and either the City of Bay Lake or the City of Lake Buena Vista. Disney's Old Key West Resort and Disney's Saratoga Springs Resort & Spa are located within Lake Buena Vista's jurisdiction; the other seven DVC resorts are located within the City of Bay Lake's jurisdiction.
In August and September 2016, the taxing authorities held public hearings before finalizing their mill rates.
The chart below shows the changes in the mill rates from 2014 to 2016. Although three taxing authorities raised their mill rates in 2016 compared to 2015, only one — the City of Bay Lake — has had an overall increase in its mill rate over the last two years.

Each year, tax collectors must release a Notice of Ad Valorem Taxes by November 1. Reedy Creek issues its own tax notices, while the Orange County Tax Collector issues the notices for the other six taxing authorities. The Orange County tax notice for Saratoga Springs, which does not include taxes owed to Reedy Creek Improvement District, shows the resort has a 2016 assessed value of $662,997,300, a mill rate of 14.1445, and an ad valorem tax bill of $9,377,765.32.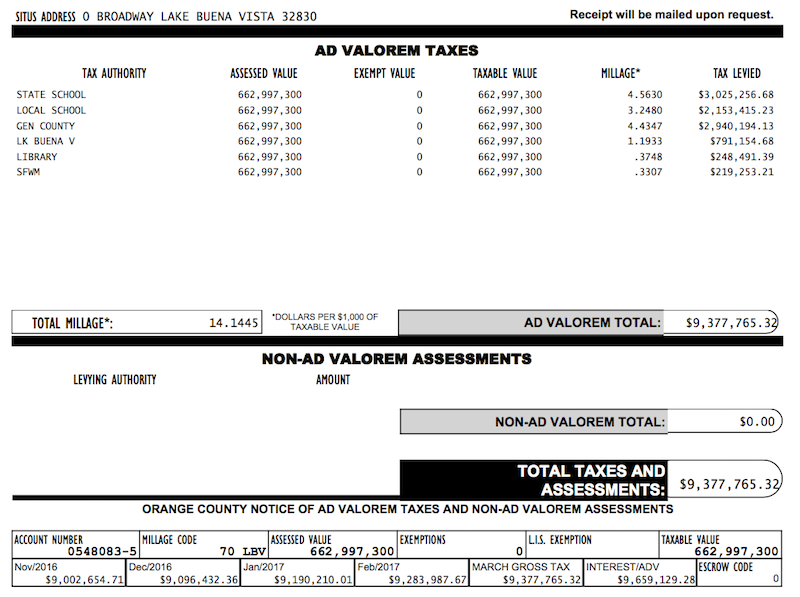 2016 property taxes are due by March 31, 2017, but taxpayers receive a 4% discount if the taxes are paid in November 2016. Since Disney pays the DVC tax bills as soon as necessary to qualify for all discounts, it will save owners a collective $2,588,792.71 on their 2016 tax bills.
Any difference between the tax estimate made in December 2015 and actual taxes paid on a member's behalf in November 2016 is applied towards the member's subsequent year's tax assessment. If the estimate was higher than the actual tax amount, a credit will be applied; if the estimate was lower, then the shortfall is also applied.
Owners of Boulder Ridge Villas at Disney's Wilderness Lodge have the largest shortfall, but it is only $0.0211 per point. A member with 160 points owes an additonal $3.38 for 2016 taxes. This balance will be added to their 2017 maintenance fees.
Disney's Polynesian Villas & Bungalows owners will receive the largest credit of $1.0420 per point. The owner of 160 points at the Polynesian will see a credit of $166.72 applied to their 2017 maintenance fees.

A breakdown of the 2016 ad valorem taxes for each DVC resort is displayed in the following chart.
---
Wil Lovato is a contributor to DVCNews.com and has been a Disney Vacation Club owner since 2009. His DVC Home Resorts include Bay Lake Tower, Animal Kingdom Villas, and Aulani. He can be found posting on many Disney discussion forums under the username of "wdrl."